سلام خدمت خوانندگان گرامی
وقت ترجمه این مطالب را نداشتم. هرچند که برای دانشجویان این رشته و کسانی که در این زمینه کار می کنند مطالعه مطلب به انگلیسی خیلی بهتر است 
Container design and types
Over 50 percent of the containers available internationally belong to shipping companies. Alongside these are a large number of leasing companies, which lease their containers both to shipowners and to direct customers. Containers belonging to forwarders tend to carry dry and liquid bulk goods, for which bulk and tank containers are mostly used. Specific details about the appearance of the containers, their external and internal dimensions, their weights and volumes, temperature control, cargo securing equipment and other special features may in general be found in the brochures published by the respective companies. Of necessity, the following can only deal with a few types of container.
 
According to DIN ISO 4346 of January 1996, a distinction may be drawn between the following types:
General purpose containers

Bulk container

Named cargo containers

Thermal containers

Open-top containers

Platform containers

Tank containers

Air/surface containers
Further distinctions are drawn within these groups depending on design and principal characteristics. Information relating to the respective code, the group and type code, is to be found in Section 3.4 "Size and type codes".
 
Over the years, expressions have become established which do not always correspond to the standards or which are used in addition to the standard expressions. Some of these need to be explained.
 

The term standard container was used for the first containers in their basic form. As these were closed and were primarily suitable for the loading of general cargo, they were/are also known as general purpose containers, dry cargo containers or box containers. The initial height of 8' has already very nearly been consigned to history. Most box containers have an external height of 8' 6". Unventilated general purpose containers have openings on either one or both end(s).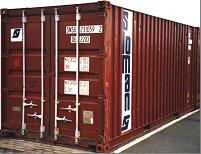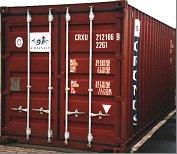 Unventilated general purpose containers of sheet steel
 The two steel containers of virtually identical construction can be designated standard containers. Both containers have an external height of 8'6" and no gooseneck tunnel. This is stated in coding 2210 on the one hand and 22G1 on the other. Both containers have forklift pockets and straddle carrier recesses.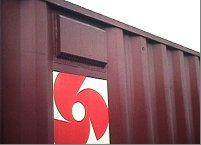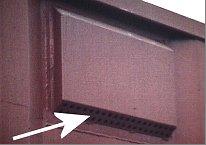 Vents in a container
Containers equipped with such vents also count as unventilated general purpose containers, although they have small vents in the upper part of the cargo space.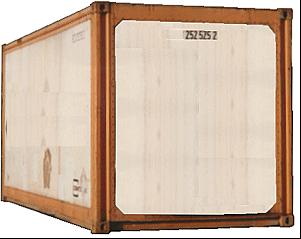 20' plywood container with vents in the top side rail
This container too falls into the category of "unventilated general purpose container" although individual vents are provided all the way along the upper part of the cargo space.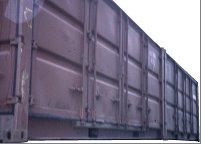 Containers with end doors and side doors occupying the entire length
Another subgroup of unventilated general purpose containers specified in DIN EN ISO 4346, January 1996, has "openings at one or both end(s) plus full openings on one or both sides".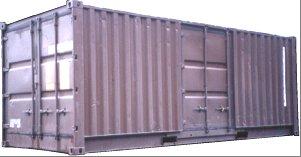 Container with end wall doors and partial openings at the side
Another subgroup consists of container with "openings at one or both end(s) plus partial openings on one or both sides".
 
The expression high-cube container originally covered all containers higher than 8' 6". The expression is now used in practice almost only ever for containers which have an external height of 9' 6". Particular attention needs to be given to possible height restrictions when these containers are carried by for road and rail. It may be necessary to use special chassis or carrying cars.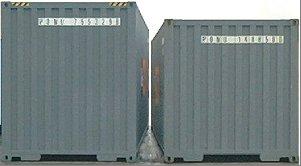 Comparison of a high-cube container (9' 6") with an 8' 6" container
The yellow and black marking on the top edges of the high-cube container serves as a warning about its height. More details about operational markings are given in Section 3.5.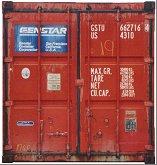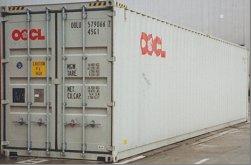 40' Container: left 8'6" high, right 9'6" high (high-cube)
40'-Containers have a larger volume-to-payload ratio than 20' containers, i.e. they are suitable for goods with a higher cargo stowage factor.
 
Open-sided containers (OS) have solid end walls and a solid roof panel. The sides may be closed at the bottom by folding down wooden, aluminum profile or steel sheet side walls, which may be divided into sections. Roof bow holders and roof bows are provided for the upper part, which may be covered with tarpaulins. The container is packed from the side. Open-sided containers also exist which are open only on one side. If bars are positioned over one open side, the containers can be used for transporting livestock. Another variant is the "folding side wall" container, a type of inland container.
Open-sided container, here in the form of a "tilt" container with end wall door
As is clear from the pictures, open-sided containers are also available with doors at the rear of the container.
 
The statement found in many brochures to the effect that "lateral load securing consists of planks, which are suspended between the removable central support and the corner posts" is not to be trusted. It is essential to check what forces these structures can absorb.
 
Open-top open-sided containers (OTOS) combine the features of open-sided and open-top containers, i.e. the roofs and sides are open and need to be covered with tarpaulins.
 

Since it is American transport that gave rise to the 8' wide standard overseas container, these containers are not suitable for the interchangeable pool pallets used in Europe, which have dimensions of 800 mm x 1,200 mm. To counter this problem, pallet-compatible containers 2.50 m in width have been constructed, which must not, however, be confused with the pre-existing inland containers 2.50 m in width.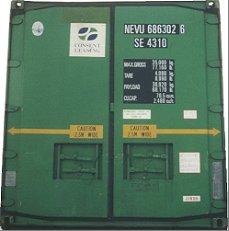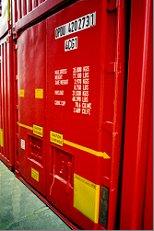 Pallet-compatible 40' containers
                                       20' x 8' 6" container with side doors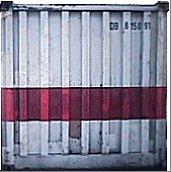 2.50 m wide 20' inland containers provided by DB (German Railroads)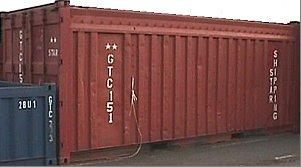 20' x 8'6" container with two end wall doors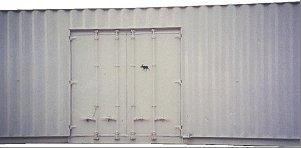 General purpose container - special design with side doors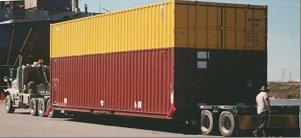 10' wide general purpose container
General purpose containers with special features are intended to make it possible to transport particular cargoes which could not otherwise be safely transported without damage. Containers for hanging garments belong to this group: they are equipped with clothes rails which are attached to special supporting bars. Textiles, hanging on coat-hangers, can be carried in these containers.
 
Passively ventilated containers, also known as ventilated containers, hardly differ from standard containers in external appearance. They are used for the most part to transport organic cargoes with high moisture contents, such as coffee and cocoa beans. Special equipment is intended to ensure that, as far as possible, sweat is prevented from forming. In general parlance, the containers are also named after the type of cargo carried in them, hence the widespread use of the expression coffee container. There are two basic variants:
Containers with natural ventilation use pressure differences between the internal and external air for air exchange purposes. Warm air rises in the container and exits at the top through the roof ventilation strips. Cooler external air then enters through the floor ventilation strips.
 

Forced ventilation containers use fans and air ducts and/or ventilation flaps to achieve the necessary air exchange.
Container vent slots or air openings are often constructed as a labyrinth to prevent the penetration of spray or precipitation. Often, there are openings in the bottom and top side rails, which form regular air ducts. Sometimes, only relatively small, perforated areas are provided at regular intervals in the outer skin.
 
DIN EN ISO 6346, January 1996, lists ventilated general purpose containers under Code V, allocating to them either group code VH or type codes such V0, V2 or V4. A distinction is drawn between:
Containers with non-mechanical ventilation at the lower and upper parts of the cargo space
 

Containers with mechanical ventilation installed in the container and
 

Containers with mechanical ventilation located outside the container.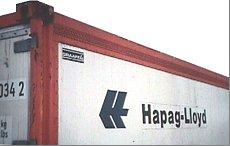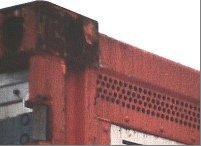 General purpose containers with non-mechanical ventilation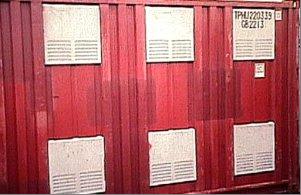 Non-mechanical ventilation at the upper and lower parts of the container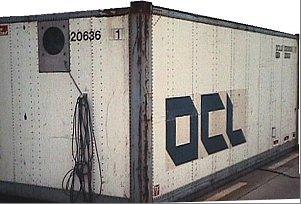 General purpose containers with mechanical ventilation installed in the container

There are plenty of other designs of general purpose container, in addition to those described above. A more unusual example is the container illustrated below.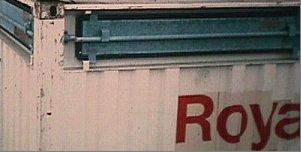 General purpose container with flaps on the end and side walls
Dry bulk containers or bulk containers may be used to transport loose, free-flowing goods. DIN EN ISO 6346 of January 1996 distinguishes, under Code B, between the group codes BU and BK as well as various type codes for non-pressure-resistant dry bulk containers which are closed or air-tight and dry bulk containers with horizontal or tipping discharge pressure-resistant at test pressures respectively of 150 kPa and 265 kPa.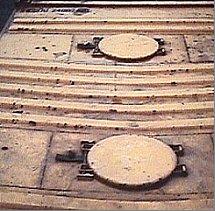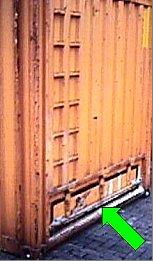 Loading hatches and discharge outlets in different bulk containers
Externally, normal bulk containers are of identical construction to standard containers except for the loading hatches and discharge outlets. The loading hatches or domes are arranged in the roof.
To gain access to these, some containers are provided with swivelable ladders. To prevent contact between the cargo and the container walls, "inlets" or liner bags may be introduced into the containers and fixed in place. The unloading hatches are normally at one of the ends, generally incorporated into the doors. Sometimes, short hoses are also incorporated, so as to be able to direct the cargo as it is unloaded. Less frequently, the discharge outlets are arranged at the side. In all the above cases, unpacking is achieved by the force of gravity, generally assisted by tipping the containers.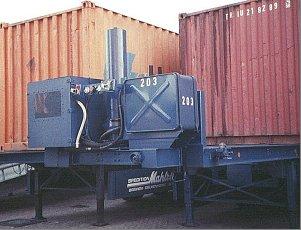 Chassis with tipping equipment for emptying bulk containers
Some special dry bulk containers resemble tank containers. In addition to emptying by gravity, some containers are available which may be emptied by means of compressed air.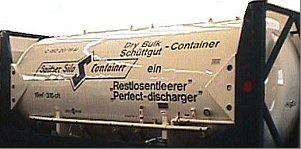 Bulk container with compressed air-assisted emptying

Resource: containerhandbuch.de

ارسال در تاريخ یکشنبه 11 مرداد1388 توسط امیر علیان
Container flows
 The huge investments made in containerization have paid off and container traffic is still continuing to grow. Although growth will not be as unbridled as in the past, it will continue until all conventional transport operations have, within a container's limits of capacity and weight, been containerized.
 
By then, it is estimated that there will be some 8000 ships in operation with a total slot capacity of nine to ten million standard containers. There will be approximately the same number of containers ashore being packed or unpacked, awaiting stuffing or unstuffing or being transferred. The majority of these containers are standard 20' box containers. While there are special containers for many applications, growth rates for these are not significant.
 
From the standpoint of container traffic, it would be ideal for there to be a balance between incoming and outgoing containers in a particular region, not only in terms of numbers, but also in terms of container type and weight. Unfortunately, such a balance is not achievable. There will thus always be empty containers to be transported in one direction or another. From the shipping company's standpoint, general purpose containers usable in any circumstances would be a major advantage. Forwarders, on the other hand, would prefer special containers if they could be carried at identical cost, as packing and securing is much easier in a special container than in a standard container.
 
For example, steel sheet in coils can very quickly be loaded onto coil containers and straightforwardly secured. They are rather more difficult to pack and secure on flatracks, while they are particularly difficult to pack and secure in box containers. Shipowners accepting containers loaded with coils for transport to Colombia would, if the rolls of sheet steel were shipped in coil containers, also have to take a large number of empty standard ventilated containers to Colombia in order to transport coffee from Colombia to Europe. Moreover, the coil containers, which are of no further use in Colombia, would have to be transported empty to somewhere where they could be used again. As a result, steel sheet in coils will be transported to Colombia in "coffee containers" which are less suitable for carrying such cargoes.
 
Another example: in order to save on the higher freight costs associated with using tank containers, flexitanks are placed inside normal standard box containers, the walls of which are frequently damaged by surging of the liquid in the flexitanks.
 
A further example: containers exported from Europe to East Asia are, on average, heavier than those imported from East Asia. If it is to be possible to export the bulkier cargoes from East Asia, empty containers will have to be transported to East Asia. If many 40' containers are required to carry "light" cargoes from East Asia to Europe, it is sensible also to use these containers in Europe to carry "heavy" cargoes to East Asia. Users of these containers get plenty of transport space, the volume of which is not actually required, plus a "securing problem" because such containers cannot be tightly packed.
 
The majority of the world's container stocks are owned by shipping companies. Quite a few are, however, leased in both large and small numbers to shipowners or other interested parties by leasing companies. Some forwarders ship goods in their own containers, but these are generally special containers for bulk cargoes, tank containers for chemicals or beverages or coil containers for the steel industry etc.
Resource: containerhandbuch.de

ارسال در تاريخ یکشنبه 11 مرداد1388 توسط امیر علیان